Finding the right online stockbroker is a personal choice, which is normally based on your preferences, level of preferred services and financial requirements. It is without a doubt one of the more crucial decisions you can make next to choosing what to invest in. In this article, we have highlighted some of the top online brokers, and we are going to go into some of the things you should consider. A useful suggestion would be to prioritize features as you will often struggle to find one separate company or broker that can meet all your requirements. Below is a '09 survey that was sourced from "Smart Money's" they are the top 16 online stock traders and have been given a star rating from one to five.
Obviously one of your main requirements is that of the accessibility online. So to answer this question, you will need to find out if they operate a software platform, meaning you have to download software in order to use it, or does it have an encrypted account that you have to log into. In deciding which of these two options are important for you, you will need to examine your current situation. Are you continuously traveling, and say, prefer to do your Stock trading while on the beach in Baja, or is this a part-time hobby, and you have a set location. Basically you need to determine the level of security you're prepared to accept.
Find out what hidden fees there are and also what the minimum deposit is. The majority of brokers will have a minimum deposit for you to open accounts. Bearing in mind some of the larger companies will require between $5000 and $10,000 deposit and if you haven't made your millions just yet, this might be an unrealistic requirement for you. Be sure to read and study the fine print, there are all sorts of clauses and restrictions, don't think just because there is no minimum balance that you get away scot free. Most of the time, they will have a higher maintenance fee. Ideally you should find a broker that meets your deposit budget and has a low maintenance fee. Another issue to consider is your commissions, although they are a normal part of trading. You don't want your profits being shared out to graciously to your broker. The best is to find a flat fee for stock trading.
Depending on the type of person and personality you have on trading, the tools your online stockbroker provides will also help sway your decision, as well as what up to date information or news they can provide you. Remember to always use the free trial offer or send an e-mail asking to get limited access to their back office to see all the tools and features and how user-friendly they are for you. Some online brokers, depending on the situations will also offer you broker assisted trading; this will provide a world of benefits to you and can help you conduct trades. If you ever get stuck or unsure the broker might be able to point you in the right direction.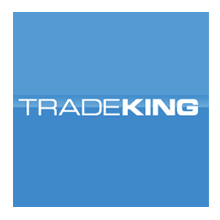 Overall TradeKing Rating

Having an online community for traders is also very handy. It will allow you to converse with other traders, and learn from their mistakes.
Rank
& Broker Name

Cost
Per Trade

Investment
Products

Trading
Tools

1.
E-Trade

$9.99

4
stars

5
stars

2.
Fidelity

$10.95

5
stars

5
stars

3.
Charles Schwab

$12.95

5
stars

3
stars

4.
TradeKing

$4.95

3
stars

5
stars

5.
TD Ameritrade

$9.99

5
stars

5
stars

6.
Muriel Siebert

$14.95

3
stars

5
stars

7.
Scottrade

$7.00

4
stars

4
stars

8.
Firstrade

$6.95

4
stars

3
stars

9.
OptionsXpress

$9.95

3
stars

5
stars

10.
Bank of America

$14.00

4
stars

4
stars

11.
Just2Trade

$2.50

2
stars

4
stars

12.
WellsTrade

$19.95

3
stars

1
star

13.
ShareBuilder

$9.95

2
stars

1
star

14.
WallStreet-E

$9.99

4
stars

3
stars

15.
Zecco Trading

$0.00

2
stars

2
stars

16.
SogoTrade

$3.00

1
star

2
stars