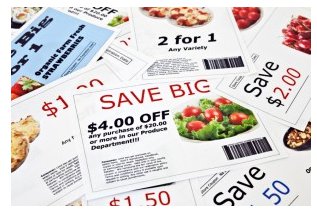 If you would like to save money in an easy way, you may want to consider becoming an extreme couponer. There are numerous places to collect these coupons from, and many dollars to be saved by using coupons on a regular basis. Here are some tips to help you become an extreme couponer.
You need to pay attention to the fine print that is displayed on each coupon. When you reach the checkout with a pile of coupons and little idea of what you are doing, this can be stressful for both you and the cashier. Start using coupons by becoming familiar with them and staying organized. Make sure that you know what the coupons offer you, what products they are for, if they can be used for multiple purchases, or if they are only good for so many products on a specific date.
You should never have to pay for coupons. The idea of using coupons is to save money not to have to spend more. Go through your community paper and flyers in search of coupons, ask your neighbor for their unwanted newspapers, or even check in the recycle bins to find unused coupons. You can check for online coupon sources by doing a free coupon search, or by going to websites such as CouponSherpa. Many of these sites will allow you to access coupons for thousands of different merchants. They will provide coupon codes and printable coupons for the savvy consumer.
Before you go shopping, prepare a shopping list to take with you. Make a plan as to what products you will be buying, and what types of coupons you will be using. You can use a coupon binder which is expandable to help you sort and organize your coupons by date to use by, expiration date, or category. A small couponizer is a great way to carry your coupons with you on a very specific shopping outing.
Choose to shop at locations that will allow you to make the best use of your coupons, as well as your time. Locations that allow for coupon stacking and combinations with in-store offers will help you to save the most money. Call the store before you go to check into these policies. It is far better to call ahead of time than to go to the store and find yourself embarrassed in the checkout line as you ask questions about the coupons.
Use club membership awards to your advantage. They are often free and can save you money through their rewards points, cash back programs, double point collection for certain expenditure amounts, and other savings perks such as member coupons.
Remember to only use the coupons for items that you actually need, that are not perishable, or perhaps to donate. You don't want to end up spending extra money for items that you don't need, or for things that will expire or go bad. You will learn to become a great extreme couponer with practice and organization, and by planning a little before you head to the store.