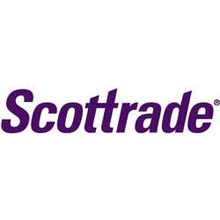 Overall Scottrade Rating

Get free trades using code HXOA4390 when you sign up.
Summary
Scottrade strikes a good balance between quality and value. They have the most physical branches than anyone else online. This gives them an edge with customer service and convenience. With their online set of tools Scottrade is one of the best brokers around. Scottrades biggest downside is that they are more expensive than other brokers with comparable service.
Fees & Pricing
Scottrade is slightly more expensive than other discount brokers. Any additional fees are kept to a minimum and many costs found in more expensive brokers don't exist. Most notably is their no fee IRA, no fee for inactiviy, and no minimum balance. Their no
Stock Trade (limit and market) : $7.00
Broker Assisted Trade: $27
Options $7.00 + $1.25 per contract
Mutual Funds (No Load, No Fee): Free
Mutual Funds (No Load): $17
IRA Fees: None
Inactivity Fee: None
Closing Fee: None
Minimum Initial Deposit: $500
Investment Products
Scottrade offers a full range of investment products including: stocks, options, mutual funds, IRAs, ETF, and ESAs. Their fixed income products include: US Treasuries, bonds, and CDs.
Tools and Resources
Scottrade has led the pack in real-time, up to the minute, reporting tools. They continue to push the envelope with their ScottradeElite trading platform (but you need $25K to access it). All of their tools have ample video tutorials and documentation to help first time users get started. Their web trading platform is also quite nice with fully customizable columns, reports, and charts.
In addition to software they also provide free access to Dow Jones News.
Scottrade Cons
Scottrade's network of brokers is a good thing and a bad thing. It's good because you can talk to a real person very quickly. It's bad because they want you to use that instead of resolving many problems through email. They have also made parts of their online program lazy because of the dependence on these branches. To get your money into and out of Scottrade is a real pain. With no electronic transfer to and from a bank account you need to send your money to a Scottrade office for processing. To get your money out you need to request a check. With electronic transfers it cuts the time to a third of what you'd expect at Scottrade. UPDATE: Scottrade now accepts and supports ACH deposits and withdrawls. There was a time they didn't have this option.
No automatic dividend reinvestment (DRIP) is kind of a downside too. If you invest heavily in dividend stock and like reinvesting the dividends Scottrade might not be for you.
For more advanced trading Scottrade's system and customer support can be lacking. If you are an experienced trader executing non-traditional trades Scottrade might not be equip to help you much. If, on the other hand, you are a executing standard trades they will work great for you.
Scottrade Summary
Scottrade offers a competitive investment service and at $7.00 a trade they are hard to beat. The biggest complaint with Scottrade is that they don't serve the more sophisticated or advanced trader very well. But for 95% of active traders Scottrade is one of the best options around. I still prefer TradeKing or Zecco because they provide the same level of service with less commissions. With that aside they provide a great value and offer a wide range of investment vehicles.