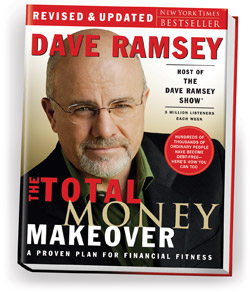 Summary
The Total Money Makeover was written to dispel financial myths and outline a 7 step "money makeover" plan. Dave's style is rough around the edges and he doesn't tip-toe around issues. If you need a kick in your pants to start being financially responsible this is the book for you. The myths he dispels are important for those trapped in financial pit. The first few steps of the money makeover are right on.

Highlights
1 – Debt is carries high risk and makes you financially "flabby"
2 – A step-by-step guide is outlined to get on your feet
3 – Financial security comes from within, but so do the problems
4 – The grass under your feet will feel different when you own your home
5 – You must have "Gazelle Intensity" to survive
6 – Avoid car payments. Instead, save cash and buy a quality reliable used car, like a lot of millionaires do as they build wealth.
7 – Being in debt has been so deeply engrained into our culture some people face ridicule from those 'disciples' of debt. Debt is not a tool. Instead, the added risk will eliminate any short term gains.

Criticisms
1 – He reads the audio book himself. His voice can (sometimes) be a little annoying. He is a professional talk show host so it's not that bad though.
2 – The last few steps in the money makeover are debatable (i.e. paying off the mortgage completely, investing solely in mutual funds). That's not to say they aren't good ideas, there just might be some alternatives that are better for some people. He presents them as hard fact when there are many options once a person has considerable cash and no debt.
3 – This is rookie friendly but doesn't advocate becoming financially literate.

Closing Remarks
If you are struggling with debt this is the book for you! It has some great advice for getting your feet underneath you. He commends people that pay with cash (even for their homes) and advocates a debt free lifestyle. It's a fun read and you'll enjoy his unique way he discusses the issues.
Buy the The Total Money Makeover: A Proven Plan for Financial Fitness
If you've read the book please leave a comment, we'd love to hear from you.