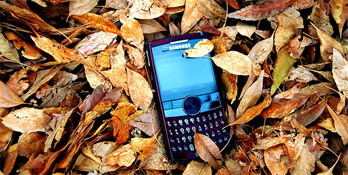 Finding the cheapest (and best) cell phone deal to replace a broken phone can be difficult. If you are on a contract and still have a while before you need to renew you might be in trouble. This post is dedicated to people like me who abuse cell phones and can't afford a fancy replacement. There hasn't been a flip phone that can handle my abuse yet. When I look for a new victim (sometimes called a cell phone) I prefer the 'brick' style. They are built like…well, a brick. Nice and sturdy.
In the past I've tried Craigslist, eBay, and salvaging old phones from friends and family. While some of these options work some of the time there was something unpleasant about each result. The root of the problem is that everyone is hard on their phones. Buying a used phone will almost always yield poor results. Here are some experiences I've had in the following areas.
Craigslist: For some reason on people on Craigslist think they can buy a piece of technology, use it for a year, and try to sell it for a little more than what they bought it for. "Come'on, this custom leopard print battery cover cost like $40 bucks when I bought it new." Errrr…no thanks.
eBay: Steps to getting a replacement cell phone eBay: Step one, find a decent deal with a nice picture. Step two, work out payment and hope the package comes within the next month. Step three: Get your cell phone in the mail only to discover it is filthy. Step four: Wonder about what kind of homeless person they stole it from and hope you don't catch something permanent.
Friends & Family: "You have to push the screen in this corner to see what your doing and the number 7 is a little finicky, besides that, it's good."
I go through a lot of cell phones and that is why I have such a wide array of experiences. The best way I found gives me the best phone, a new phone, and it's free. No drama, no headaches.
The Secret – Prepaid Phones
I found that most prepaid phone planes have a big selection of refurbished cell phones that come with a bunch of free minutes. Once you have the prepaid phone you have two options: Sell the prepaid minutes card and get your phone for free, or activate the phone and make money on the deal (you'll get the phone free and the minutes are more than what you could buy at regular prices). All cell phone SIM cards are easily interchangeable. A SIM card is the little card in your phone that identifies your number and saves your address book. When your prepaid phone comes, take out the prepaid SIM card and replace it with the card from your broken phone. In a matter of seconds you'll be talking on a new cell phone for free.

For AT&T Replacement Cell Phones:
http://www.wireless.att.com/cell-phone-service/packages/prepaid-pay-as-you-go-packages.jsp
I like the Nokia 2610 (it comes with $25+$10 airtime + a replacement phone – all for the low price of $29.99). Replace your SIM card and you're good to go.

For Verison Replacement Cell Phones:
http://www.verizonwireless.com/b2c/store/controller?item=prepayItem&action=viewPrepayOverview
Pick a plan and go to the next screen.

For T-Mobile Replacement Phones
http://www.t-mobile.com/shop/phones/prepaid.aspx
They don't say how much airtime you'll get exactly but it's probably comparable to the other guys.
Most cell phones are 'locked' to a certain network (e.g. T-Mobile, AT&T, Verizon). This means Verizon phones will work on the Verizon network. You cannot buy a T-Mobile phone and have it work on the Verizon network by switching the SIM card. It is possible to 'unlock' cell phones but you need to be willing to spend some time with customer service to do so. Once a cell phone is unlocked it will work no matter what Network you connect to. You connect to a network by the type of SIM card you have and how that SIM card is configured.
If you have any questions or feedback please leave a comment below.