Can you imagine getting $279 worth of groceries for 39 cents? A woman named Kathy Spenser is feeding a family of 6 on less than $4 a week. Occasionally she goes negative and has to buy something so the store doesn't end up giving her some change back! How is she doing it? She clips coupons and looks for loopholes in sales. When the time is right she uses both to her advantage and ends up getting many items for free. In some cases she actually makes money on a given promotion.
The most common techniques she's using are:
1) Pairing Coupons with items that are on sale. A $1 coupon for something that went on sale for a dollar equals free!
2) Networking online with other moms that are doing the same thing. She's part of these groups How to Shop for Free, Big Tent Free Shoppers
3) Stock piling common items. When an item is almost free (or completely free) she'll buy all she can.
4) Collecting coupons from newspapers, grocery stores, manufacturere's websites, ebay, and using free printable grocery coupons online.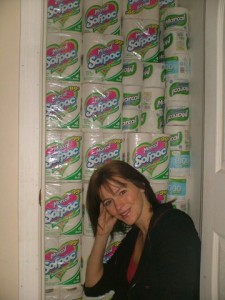 Source:
http://www.boston.com/bostonglobe/magazine/articles/2009/08/16/the_queen_of_coupons/
She was first featured in the Boston Globe