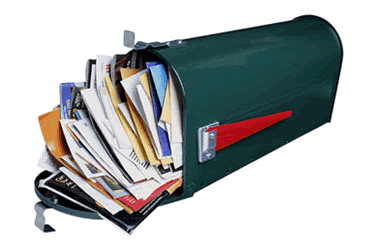 To save time, the environment, and your sanity these resources help protect your privacy from unwanted services.
Stop Pre-Screened Offers
Link: OptOutPreScreen
Opt out of pre-screened credit card and insurance offers. Companies can no longer peek at your credit score to see if you qualify for their services. The less mail you receive like this the less likely your identity will be stolen. Your free credit report will show you which companies have pulled your credit report for a pre-screened offer.
Stop TeleMarketers
Link: National Do Not Call Registry
Most telemarketers should not call your number once it has been on the registry for 31 days. If they do, you can file a complaint at this Website. You can register your home or mobile phone for free.
Reduce JunkMail
Link: Direct Marketing Association
There are two kinds of junk mail, prospect junk mail and customer junk mail. If you've purchased something from a company you are forever considered a customer. You can opt out of prospect junk mail through the Direct Marketing Association (DMA) see the link above. Hint: Try the deceased person form in the right column. If you are a customer you need to contact each company directly to have your name removed.
Stay Anonymous
Link: iNumbr
Protecting Your Privacy. Talk without sharing your real phone number. Get a virtual phone number that will forward calls to any phone. Google Voice is also a good option if you don't plan on using the number for a lot of transactions.
Link: 10 Minute Mail
Beat spam with the best disposable e-mail service.
Link: Fake Name Genorator
Gives you everything you need to fill out forms.
Bypass Compulsory Registration
Link: Bugmenot.com
Get access to restricted areas of websites with this service.