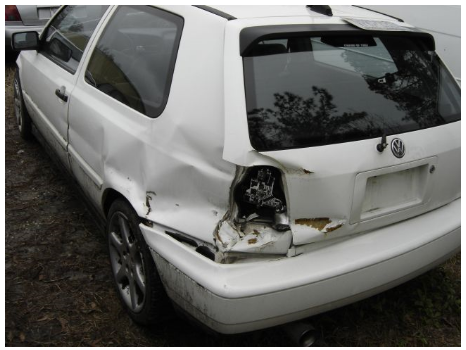 Buying a car with a salvage title can save you a lot of money. If you have a goal to pay cash for your vehicles this is a little short-cut that can save you thousands of dollars in car payments, interest, and insurance. My dad has always bought salvage title cars and I've bought three myself. There are some tips to buying a salvage title that may help you get the best deal possible.
Advantages of Buying These Types of Vehicles
Save on Car Payments – Most likely you will pay cash for a car you buy in this situation. Funding on salvage title cars is non-existent. When I bought my first car like this I got a signature loan because the car didn't qualify for a traditional auto loan If you pay cash for your car you won't pay a penny in interest.
Save on Insurance – With a car of this type you can forgo paying for full coverage insurance. This is because the insurance company won't give you anything if you were in an accident that was your fault. They will let you buy full coverage insurance but they won't pay out when you crash (nice eh ;)). The only insurance you need is the bare minimum required by law by your state, which is Limited Liability Insurance. It should be about a third the cost of comparable full coverage insurance for the same car.
Pay less and get more – You can expect to pay much less for a car with a salvage title. If you don't mind working on the body of your car and like sanding Bondo (a filler adhesive) you'll be set to get a car for half off or more!
Where to Find Salvage Title Cars
Auctions – Insurance auctions is where you'll find the biggest selection of salvage title cars. You need to go with a 'buying agent'. These agents will have a used car dealership and will charge a small fee to take you to the auction. They'll give you a lot of tips and information on each make and model of car. They will also help you evaluate the damage. After attending a few auctions I found the environment and selections of cars really aren't the best. Almost every time I went to the auction I found myself paying way too much (especially for popular vehicles with light damage).
Friends and Family that have been in an accident. – If you know of someone that has been in an accident (and it's not serious..cause you're not a huge jerk) and the damage to their car isn't that bad let them know you're interested in buying it from them if the insurance company wants to total the car. Usually, the insurance company will allow the owner of the car to buy the car back at a deeply discounted price once the car has been totaled out. A new title will need to be assigned (thus making it a salvage title) and the transfer of ownership can be done at the same time.
Classified Ads – Many times you can find salvaged titled cars in the classifieds. If you see a car that has a price that is too good to be true you're probably looking at a salvage car. Make sure when you buy a car you always run the VIN number to make sure the title is what is says it is.
Repair Shops and Junk Yards. Usually repair shops located close to junk yards will have a bone yard of salvage title cars you can look over. Many junk yards themselves will have a selection of these types of cars. The price is set on each car. This is my preferred method of finding a wrecked car because there's no chance of someone bidding up the price like in an auction setting.
Tips on Selecting the Best Car and Damage
Find a car that has been hit lightly from behind. Front end damage is difficult to fix and may have worse issues with the engine or cooling system once you start driving it regularly. Avoid side damage or cars that have been in roll-over accidents. When you find a car that has been hit from behind try to make sure the trunk still works and seals. Ideally, you want a car that all you need to replace is a tail light and the bumper. These are rare.
Small Trucks are Nearly Impossible to Get a Good Deal On. There is a lot of demand for small 'beater' trucks. You'll likely pay just as much or more for a salvage title truck then you will for a comparable used truck.

Would I Buy a Salvage Car Again?
Probably not. And here's why. If you look regularly on craigslist for cars you'll probably find a car in good condition in the price range you want. If you factor in the time you spend repairing a wrecked car and the money you spend on parts a private seller used car is going to be hard to beat. Now if a salvage car is presented to you that only needs a tail light go for it. You won't find a better deal then that. The other exception to this is if you know someone that frequents the auctions or junk yards regularly and can call you when they see a really good deal. This is a proven way find a salvage car. If you don't have the luxury to wait for the deal of a lifetime you'll probably just break even at best trying to fix a car with damage.
Another thing to remember is most repairs won't be perfect. If having a perfect car is your goal in life you won't want to attempt buying a car like this.