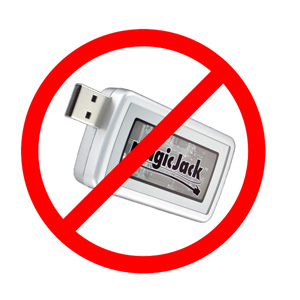 In the past I touted not having to pay any phone bills. A big part of the strategy was using a VoIP service called the MagicJack. The MagicJack is a USB to phone jack converter that uses your Internet connection to make phone calls. After five months of service we're switching to a different VoIP service.
MagicJack was a disappointment because:
10% of the time it worked as advertised, with clear signal. The other 90% of the time we had terrible sound quality, it wouldn't accept incoming calls, or it would send people to voicemail automatically.
We had to restart our computer each morning to have it work. Screensavers or extended downtime of the computer would regularly interrupt service.
Our friends and family thought we were avoiding them.
When I accidentally formatted the MagicJack I was forced to work with their customer service. The first hour we tried an array of troubleshooting techniques to get it working. Once we tried everything the service rep told me to restart my computer, router, and modem. After working with a few of these customer service people I found this was their way of telling you they didn't want to work with you any more.
When I'd work with new people they would start over at the top of the trouble shooting list. I would ask them to read my past chat sessions but they were persistent on having me repeating all the steps I'd already taken. There are only so many times I can unplug and re-plug my MagicJack in my computer.
Customer service would wait 5 to 10 minutes between responses in a chat session. Talk about annoying.
After 3 1/2 hours working with their customer service they couldn't fix the problem. Worse yet, they wouldn't work with me on getting a replacement MagicJack. Instead, they wanted me to sign up for another year of service plus buy the hardware again. No credits for a free year or the ability to use my remaining contract time.

Summary
The idea of getting phone service all year for $20.00 is awesome. But using MagicJack for regular use isn't a good idea. For occasional phone calls or international travel it could be a great solution. Part of me hopes MagicJacks sticks around because the idea is brilliant. When they get all their issues fixed maybe I'll give them another try.