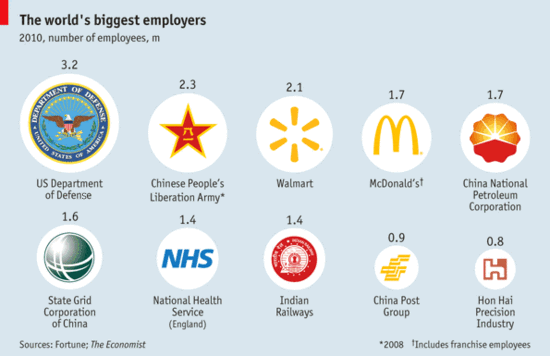 Where do jobs come from?  According to the chart above:
1) War – US Department of Defense, Chinese People's Liberation Army
2)  Big Box Stores – Walmart
3) Fast Food – McDonald's
4) Energy – China National Petroleum, State Grid Corporation of China
5) Health – National Health Service
6) Transportation – Indian Railways
7) Postal Services – China Post Group
8 ) Cable and Wire – Hon Hai Precision Industry
This is interesting but it doesn't tell the whole story.  Maybe in a future post we could research jobs by country per capita.  North Korea has one of the highest military jobs per capita in the world.  Much of where a countries jobs come from would be based on their exports and what they specialize in.
In the debate about were jobs come from know how most countries employ their citizens could provide some valuable information.